About Us
Daily Sushi is one of the top restaurants in Toronto, serving up an extensive menu of authentic Japanese cuisine for anyone and everyone to enjoy. Using only the freshest of ingredients personally picked out, and preparing tasty dishes with authentic recipes, you are sure to love Daily Sushi's amazing food and reasonable prices.
Come and enjoy your favourite Japanese dishes and more at Daily Sushi. No matter what time of day, or where you want to eat, Daily Sushi packs the Japanese flavour! Joining us for lunch or dinner? Start your meal off right with one of our Grilled Appetizers like the Beef Ribeye Skewers, Unagi Kabayaki, or the Yakitori which is broiled chicken on skewers with yakitori sauce. For your main course, we recommend trying our tasty Noodle Soups such as Chicken Udon or Soba, Vegetables Udon or Soba, or the Nabe Yaki Udon served with tempura shrimp, chicken, seafood, egg, and vegetables. For your dinner choose from our Complete Dinners or Dinner Set Courses menu. You are not going to regret ordering the Natsu Combo which comes with shrimp and vegetable tempura, two pieces of dumplings, mixed vegetables, choice of teriyaki chicken, beef, or salmon, three California roll, and steamed rice. Another popular dish that is perfect for dinner is the Dinner Set BBQ Marinated Beef Short Rib served with flavourful barbeque beef short ribs, mixed vegetables, miso soup, and steamed rice. If you are in a mood for ramen try the Shio Ramen served with pork, fish cake, green onion, nori, seasoned egg, and corn, or the Miso Ramen made with soybean paste, pork, fish cake, green onions, nori, seasoned egg, and corn.Be sure to get your favourite food from Daily Sushi delivered straight to your front door! We also offer pickup for those days that you just want to relax after a long day at work! Order online through SkipTheDishes now and enjoy your tasty meal in the comfort of your home today!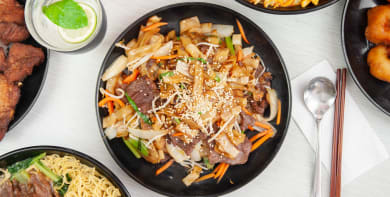 Contact Us
Find Us
20 Carlton St, Toronto, ON M5B 2H5, Canada, Toronto, M5B 2H5
Opening Hours
Monday
11:00 AM - 10:00 PM
Tuesday
11:00 AM - 10:00 PM
Wednesday
11:00 AM - 10:00 PM
Thursday
11:00 AM - 10:00 PM
Friday
11:00 AM - 10:00 PM
Saturday
12:00 PM - 10:00 PM
Please note, delivery times may vary.
We deliver to
M4G, M4J, M4K, M4L, M4M, M4P, M4S, M4T, M4V, M4W, M4X, M4Y, M5A, M5B, M5C, M5E, M5G, M5H, M5J, M5P, M5R, M5S, M5T, M5V, M6C, M6G, M6H, M6J